In the last couple years I have done a fair bit of helmet cam-ing for Bjorn Enga in his Kranked movies. When filming Kranked 7, I was very happy to see the huge "mini" 16mm helmet camera get ditched for a smaller and lighter HD setup. So, last summer when he asked me if I was up for filming Romo on a steep and technical singletrack that I have been building for the last 6 summers, I said "yeah, no problem." Well, what I didn't know was, the smaller more rider friendly digital helmet cam had been dropped for the better image quality of the 16mm film / 10 kilo unit.
It wasn't until Romo sent a biggish drop to an off camber root infested landing with me in close behind and I was completely off line with my fork bottoming and staying bottomed that I contemplated, maybe a stiffer spring in my fork would make my bike seem less stinkbug-ish. I had to put a foot out and yank on the bars as hard as I could to avoid hitting a tree with me and my 10 kg helmet. Needless to say I missed that shot.
It was a fun day with everyone laughing and some good shredding going down. I came to terms with my lower than normal front end and started to get along just fine. In the end we got some great shots and I think you guys will like seeing Romo shred the trails of Morgins and Chatel in Bjorn's next film, Kranked 8 Revolve
Thanks to Sven Martin I have a couple photos from that day to share with you guys.
The very heavy helmet camera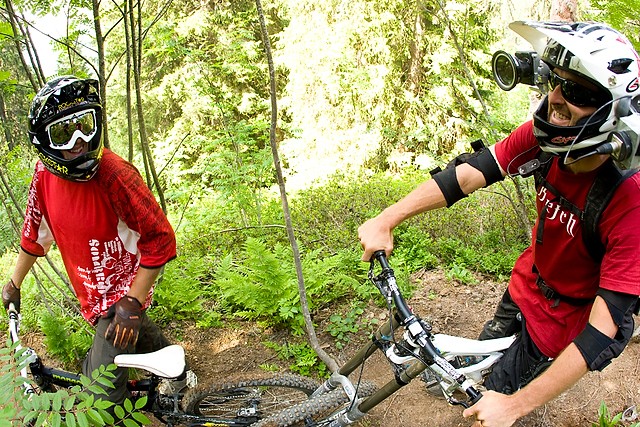 I had to hold the helmet when not riding to conserve the muscles in my neck for when Romo gets a little "zesty."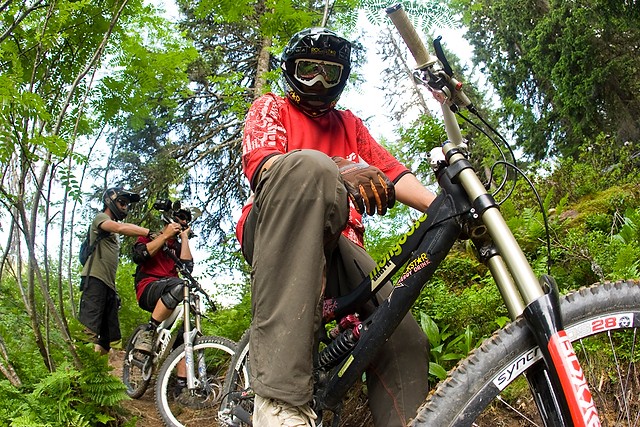 The drop that made me reconsider my springrate.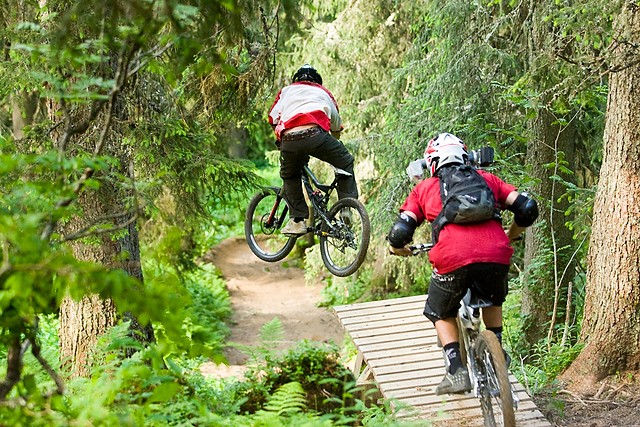 Other shots of me from that day.