Are truly snowy countries laughing at us when we woop with joy at 2 millimetres of snow?
Okay we have serious snow now, well, 300mm which is a lot for us.
The Dirt Office is frozen solid and I had to walk five miles just for a cup of internet.
Here are a few updated woops of joy (and woe) from around the country (and other countries)
Jan-Czugalinski "I've been busy this week building a iglu 🙂 took me 12 friging hours…."
Jody Kidmose. "Great thread….it's giving me a broner. Here's a bunch of my classic snow shots. Most of the pics were taken on Vancouver's North Shore. Enjoy."
Kevin Moran in Dublin.
Steve Workman from Sheepscombe Nr glos
Frank Connell "here's our igloo that me and my son made! took the whole day! then we slept in it that night, a wee bit chilly!"
mudhound in North Kent downs.
Med from Maddiston in Falkirk
Rui Couto and Lino Correia "It's snowing in Portugal too! We are getting a white blanket of 10 cms of snow, this morning here in Portugal!"
Pete Newman and the Redhill locals.
Chris Hutchins "Joe Barnes, Liam Moynihan and myself tackled the downhill track today on Skis. Some of the jumps were quite fun and the fourcross was a full blown boarder cross."
Jason Wain
Jordan Tongue, Saddleworth Lancashire.
Ian Mocket at Chicksands.
Fabien-BALIZET "Photo taken on the downhill track of Mandeure (Doubs, FRANCE) "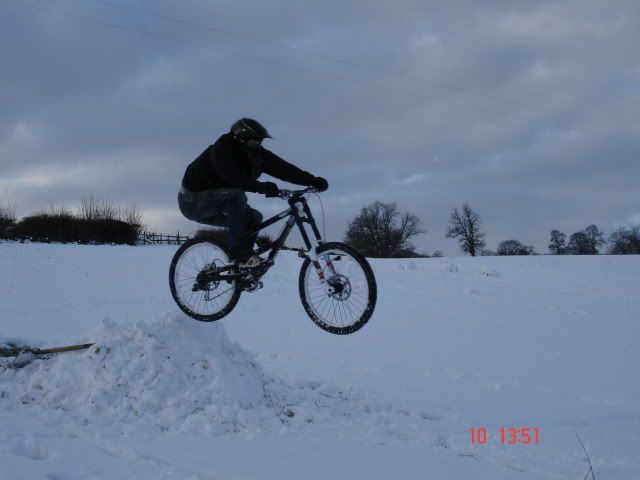 Ben Raynor "Built a snow kicker in a local field today with my mate Geoff and spent a few hours sliding around and trying to get some decent pics of it all despite struggling with the contrast of all the snow! "
I wondered how long it would be before somebody sent in a snow cock.
The answer, not long at all!
The students of Jesmond have been hard at it.
Saw this on Peaty's Twitter.
Willy Snow (good name in the conditions) said: "me and my mates found this random as fook exercise bike thing in a park when i was messing about getting some drifting in on my bike… it was a bit strange to say the least!"
Aleksi Aaltonen from Finland
Marcus Darby and mates.
First up, Dirt editor Mike Rose went sledging last night and broke his foot the silly bugger. He's snowed in so can't go anywhere anyway, but his house is the only one with internet for miles around so we are using it as a make shift office until the real office thaws out.
Joe Williams, one of the most dedicated riders in the Forest Of Dean knocks out a 60mile xc hack. and has time to build a snowman.
Ben Nott rocking the Wulfsport look while getting sideways.
WhytePeak sent this via the Dirt Forum. A lovely lorry load of coal, and his ride.
not really bike related but i've spent the last 3 days building an igloo. i'm very proud of it-Joe Linden
More Mountain Biking >>
Christopher Gallagher
Matt (in air) and Aly (on corner) riding the last remanence of snow at woburn, it was super busy on the sunday when there was loads of snow but no one had a camera!
Heres a few shots of us playing around in the snow at Chicksands
cheers,
Jack Hudson, Mop Head and Cameron Rouse
David Sibley "Coopers Hill new Old Windsor a few days ago of myself having fun in the snow"
We have our wintertrack in Vuokatti. It´s pretty much in the middle of Finland.
It takes real commitment to ride downhill here in the winter. We have our share of snow and the it takes about an hour just to shovel the snow of our track… I think the experience of riding in snow has something very real to it because usually the suspension and brakes are frozen and you don´t really have any grip (I didn´t even have studed tires until this winter!).
So here are our snowy photos.
BR
Harri&Petteri, Vuokatti Finland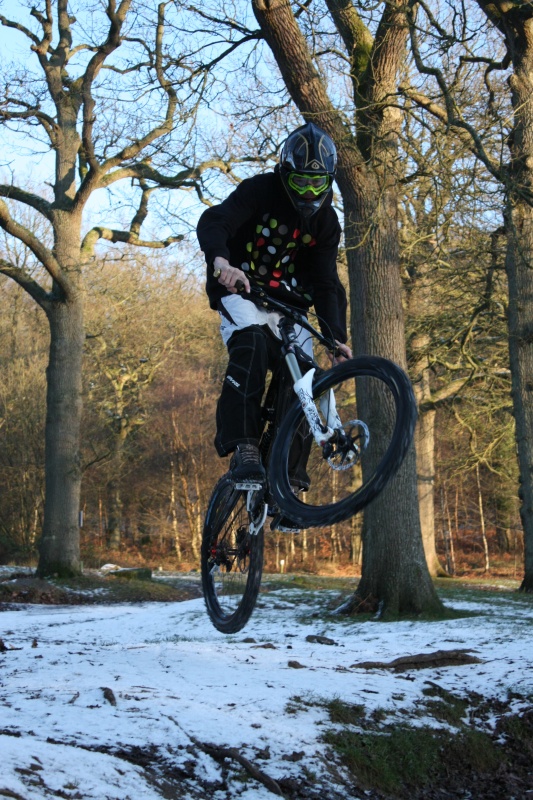 Dan Joyce in the Forest Of Dean
Hi there, just seen the snow posts on the website just I've got a few of Jake Ward riding photographed by my self (Martin Brown) Shot in Suffolk. It beats being indoors revising for exams in January.
John Shiel getting his drift on.
Alastair Rothwell "Just some pictures of Randwick woods (near Stroud, Glos) in the snow. Riders are Ali (me) and Matt Hughes. Way more fun than being at work:)"
Renan George-Gallagher somewhere.
Mark Forrest just back from Contin and Golspie.
Dai Robot loves the snow, see how happy he is here?
Mark Hobbs and 14 santas at Whinlatter in Cumbria.
Chris Roberts and some weekend Chicksands 4x snow
Tommy Wilkinson "The first one is near Chew Green – an old roman fort up the Coquet valley and just past makendon farm. Very good if you like roman history and also a very good environment for cheviots crossed with swales, a nice hardy sheep for the higher ground.
The second one is the old A1 out of Alnwick, home to the duke of northumberland and the uk's second largest inhabited castle.
I hope you appreciate these snow pictures complete with fascinating Northumbrian history."
Francois Desmaison "…from the city of Limoges (87) in France.
I send to you some pictures of my yesterday snowy ride in La Jonchère. This spot is like the Valleys in Wales. Very fun to ride."
SnowDay from josh bryceland on Vimeo.
Josh Bryceland and Co snowing it up.
Adam Pagett "snowy llandegla yesterday even though they had put up a "trails closed" sign, all good!!!"
Eddie Pugh and his sweet backyard set up.
While us Brits are rubbing salt onto our roads Yannick Garric and his mates are rubbing that same salt into our open snowy wounds by sending us hot, dry, blue sky photos from the south of France. Cheers pal.

Juho Sipilä from Finland says" Well, it's been like -20 degrees here in Finland for a few weeks now and the snow on the slopes measures between 50 and 100cm.
That doesn't stop riding though.
We're once again hosting an annual Snow-DH at a local skiresort/ Bikepark Messilä in Hollola, some 100km north of the capital Helsinki.
The race will take place on the 13th of Feb, and we're hoping the local star Matti Lehikoinen will again be able to attend, as he won the event last year.
Also, hitting the snowpark jumps in the morning when the lifts are closed and the slopes untouched is quite special, the jumps measure easily from 10meters all the way up to 20m."
Send your snowy owl pics into BIlly